In 1992 Island Records released some 5"-CD singles with remixes of Bob Marley's original work with the release of the 4CD-box Songs Of Freedom. One and for me the best was Bob Marley & The Wailers: "Why Should I". The track comes in two versions of a "Bone Remix". And bone meens nothing else that the lead instrument is a trom-bone provided by nobody less than Rico Rodriguez.
5"CD-Single: Tuff Gong /Island /(BMG) 74321 12170 2 /D
(p) 1992 Island Records Ltd. (compilation)
(c) 1992 Island Records Ltd. (compilation)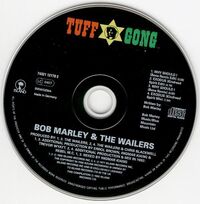 Tracks:
Why Should I (Bone Remix Edit) (3:58)
Exodus (Kindread Spirit Mix) (4:19)
Why Should I (Bone Remix) (6:55)
Exodus (Kindred Spirit Mix) (7:04)
All tracks written by Bob Marley
Tracks 1 and 3 had been voiced by Bob Marley in 1971 and produced with band and harmony vocals in 1992:
Rita Marley
Judy Mowatt
Marcia Griffith
Sly Dunbar
Robbie Shakespeare
Steve Gregory
Eddie Thornton
Rico Rodriguez (trombone)
Tyrone Downie
Ingmar Kiang
Juliet Roberts
Jane Eugene
Joan Todd
Robbie Lynn
Carlton "Bubbles" Ogilvie
Tracks 1 and 3 produced by The Wailers with additional production by Errol Brown, Ingmar Kiang and Trevor Wyatt Mixed by Ingmar Kiang; (p) 1992
Tracks 2 and 4 produced by The Wailers and Chris Blackwell, with additional production and mix in 1992 by Rebel MC; (p) 1977, (c) 1992
Ad blocker interference detected!
Wikia is a free-to-use site that makes money from advertising. We have a modified experience for viewers using ad blockers

Wikia is not accessible if you've made further modifications. Remove the custom ad blocker rule(s) and the page will load as expected.