Special Festac 77 in Nigeria by T.P. Orchestre Poly Rythmo of The Peoples Republic of Benin
Original release
Edit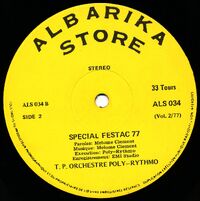 LP: Albarika Store ALS 034, Vol 2/77
Special Festac 77 in Nigeria (track over 2 sides and over full LP length)
Zoundegnon Bernard (g)
Papillon Adjanohoun (g)
Maximus (g)
Bentho Gustave (b)
Loko Pierre (sax)
Tidjani Kone (sax)
Koutouan Ossey (tr)
Theodore (tr)
Tidjani Kone (tr)
Yehouessi Leopold (dr)
Somassou Nestor (conga)
Lohento Eskill (voc)
Ahehehinnou Vincent (voc)
Kounkou Diak Theo (voc)
Agbemadon Paul Gabo (voc)
Melome Clement (voc)
Amenoudji Joseph Vicky (voc)
Zoundegnon Bernard Papillon (org, p)
Directed by Melome Clement. Realisation: Albarika Store. Recording: EMI Studio.
Photo: Photo Cine Shop
Sleeve printed in Nigeria by RMNL.
LP pressed by Records Manufacturers of Nigeria Limited
Ad blocker interference detected!
Wikia is a free-to-use site that makes money from advertising. We have a modified experience for viewers using ad blockers

Wikia is not accessible if you've made further modifications. Remove the custom ad blocker rule(s) and the page will load as expected.