The Legacy is the finally a film on the life and legacy of Rico Rodriguez made by Spanish/Catalan trombonist Jep Jorba.
"The phonograph starts to spin. The stylus falls softly over the vinyl record and life starts to play again that notes full of memories, difficulties, faith, travels and experiences.
The life of Rico Rodriguez and the life of jamaican music are two faces of the same coin. They are like two parallel lines that passed through the time and the place.
In the documentary "Rico Rodriguez – The Legacy" the time is 2006 and the place is Barcelona. The old caribbean melodies of the 60's are performed by young musicians of the millenium, that take with pride the musical and spiritual legacy of this great trombonist.
These beatiful melodies become the perfect soundtrack to review the biography of one of the most humble and compromised legends of jamaican music."
pressrelease of the producers
Directors, writers & editors:
Jep Jorba
Miquel Angel Arnáiz
Ester Casals
Production Manager:
Associate Producers:
Miquel Angel Arnáiz
Ester Casals
Noemí Duran
Raul Ferrer
Manel Tarascó
Camera Operator
Miquel Angel Arnáiz
Ester Casals
Jep Jorba
Noemi Duran
Music mixer:
Time: 24:38, Colour, Widescreen 16:9, Barcelona (Catalunya) 2006
Trailer at You Tube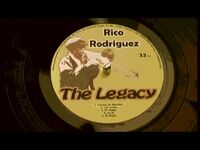 Ad blocker interference detected!
Wikia is a free-to-use site that makes money from advertising. We have a modified experience for viewers using ad blockers

Wikia is not accessible if you've made further modifications. Remove the custom ad blocker rule(s) and the page will load as expected.